You know that time during the holidays where you snitch a piece of this and piece of that thinking you're good and you wake up and gained 10lbs?  You ask yourself, " How did this happen?"….. Just part of the drift… Guess what…..
Departments Drift…
Sometimes we can get so comfortable doing what we KNOW to do; we forget about HOW we should be doing it.
How can we know when we are successful? Let's go back to the manifesto for a quick peak.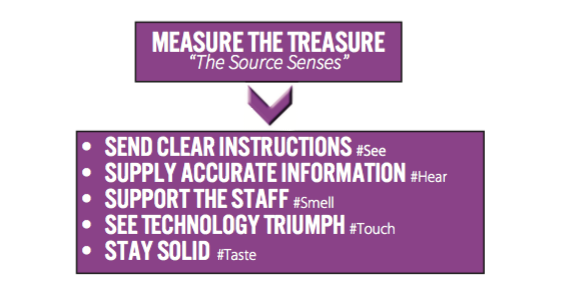 Simple reminders that keep us solid on how we support:
Circle Center:
We love what's

LIVE

.

We talk to DRI's, Contacts, & the A- Team.

We document details.
UPDATES:
Pulse & Pass

Quicker Responses, Slower Solutions

(QR) A quick "Hey, that's a great question, let me find out for you." full of confidence is better than a 20sec pause of nothing while you scramble for an answer.
(SS) "According to the official link, we are going to have _________ at this event."  Always drive people back to the link or the correct controller who can give them better support!

Conversation Creates Culture

You're not a robot, so just talk! Be friendly. Be kind. Treat the other person how you would want to be treated. Your conversation WILL affect their future interactions with The Source.
EVENTS:
Escort & Execute

You make sure details in the description become destiny and actually happens. If the description calls for 45 chairs, make sure there are45 chairs ready to go when the event goes LIVE.

It's only official if it's in writing……in a link!

E-mails aren't official info.
Hangouts aren't official
Links are official.
Sending an email or hang out with info can look like, "Hey PA, You're being asked to be here…. (link)."

If the EVENT is approved, we need to see the GOODS (info).

If it's on the calendar and people know about it, details are needed for the description.
DRI/Contact doesn't choose if they want it seen or not seen. It's official on behalf of the ministry and  it's happening. Details and descriptions need to be seen on the link.
CIRCLES:
Creating & Completing

Circles are used for more than just "broken things" or "reports".  Circles should be as common as a piece of paper. There will be the day when there are thousands and thousands of circles. So don't get stressed out by "making a new one."
Completing circles is a staff-wide team thing. You can't complete them by yourself, but by staying close we can see circles completed in a timely manner.

Stamps & Cues

Stamps & Cues are more important than we know right now. If you have the option to cue a circle, do it. If the stamp option is available, do it.

Detailed Documentation

The more info we have, the better we can support. A great PULSE on information is the following:

Names (Who's all involved. If they are involved we need to know.)

Numbers (Phone, People Counts, Money Values, Serial Numbers, Etc)

Needs (What do we need to help resolve their situation?)

Notes (What instruction did your A-team give? What helps the next controller?)

Comment LOVE Simple Statements & Solid Summary

When comments go public there will be a new field for a "Subject" line. It will be bolded on the official link.

Example: SimpleStatement: Matthew Arrived To The Priority Center
Example: Solid Summary: Matthew arrived at the priority center at 11:30 am but had trouble because they wouldn't accept her paperwork. He called the Source for direction, and we told him to_________. 
ACTIONS:
Assign & Align

Assign a DRI and Align them to the vision.
Confirm the action was done with excellence.

If Actions don't move, Source doesn't move.

Circles, Events… They all require actions to be accomplished in order to see progress.
Stay close to them and document and support as needed.
You're doing a great job of making ministry happen. When we stand together and say the same thing, and do things the same way, we win. We want our customer "the staff" to want to come back. Serve and support them, and watch common order release uncommon Glory.